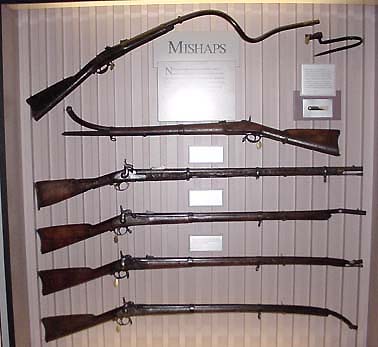 Springfield Armory NHS, US NPS

Springfield Armory NHS, US NPS
MODEL 1861 During a thunderstorm, a sentry's musket was struck by lightning which left it just as you see it. Despite the intense heat caused by the lightening, a regulation Civil War paper cartridge was found intact in the breech when the weapon was disassembled for cataloging and preservation. The identity of the sentry, who survived, is not known. It is believed that he was a Confederate since, while the rifle is a Springfield contract arm, the bayonet is apparently of Confederate manufacture.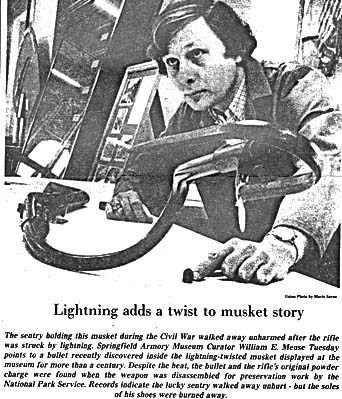 Springfield Republican newspapers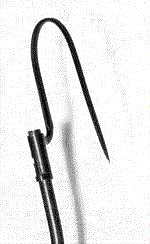 Springfield Armory NHS, US NPS
CONFEDERATE BAYONET
Manufacturer unknown - Socket bayonet that was attached to rifle-musket hit by lightening (SPAR-1330), now contorted into a U-shape. Bayonet appears to be from a .69 caliber musket. T-slot lock with no ring. Flat blade. Bayonet is possibly Confederate.
No visible markings.
**********

Springfield Armory NHS, US NPS
MODEL 1861 The barrel of this weapon, found on a Civil War battlefield, has been struck by a large projectile.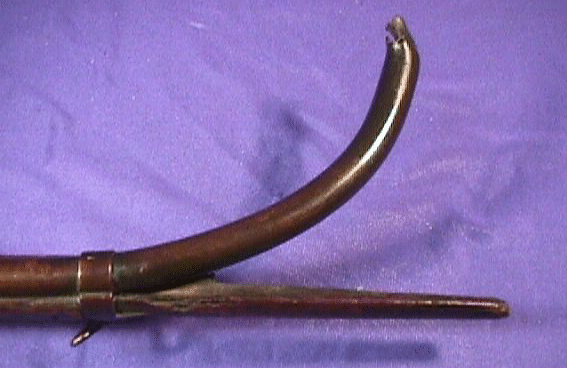 Springfield Armory NHS, US NPS

Springfield Armory NHS, US NPS
BRITISH RIFLE-MUSKET MODEL 1853 (P53) ENFIELD
During the Civil War, the stock of this British Enfield became impregnated with salt from perspiration. After the war the soldier took the gun home and stored it in his barn. The gnawed stock is the result of a porcupine attempting to chew out the salt.

Springfield Armory NHS, US NPS

Springfield Armory NHS, US NPS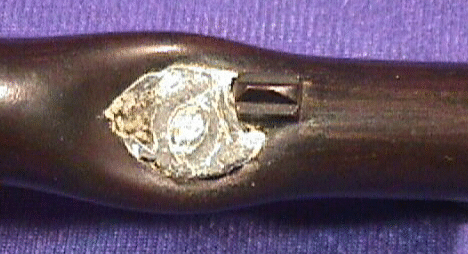 Springfield Armory NHS, US NPS

Springfield Armory NHS, US NPS