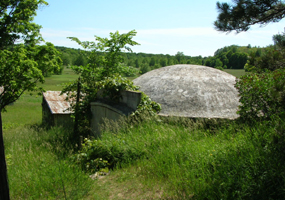 Kerry Kelly 2007
Charles Treat was an engineer, and he loved to experiment and invent things that could be used around the farm. After pouring the foundation for the barn, he continued to experiment with concrete. He probably started with the root cellar, which is a rounded concrete structure built into the hill near the garage. Later he built the garage using an eggshell design. The walls were first constructed with 4" thick rebar reinforced concrete.
Then the roof was started with a heavy frame of cedar with an earthen form around it. The concrete was poured one bucket at a time. Steel rebar was bent to the circular design we see today. The roof was 2.5 inches thick with a spiral rebar pattern for strength.
Most of the crops grown by the Treat family were for their own consumption. They grew asparagus, apples, beans, plumbs, potatoes, and raspberries. They also grew corn and hay to feed the animals. They had two unshod horses, which they used to work the land. They milked about 12 Jersey cows by hand twice each day. They used the milk and separated cream. Chickens provided eggs and meat. They didn't raise hogs even though ham was one of their favorite meats.
Within a few years the sandy soil began to deplete, but with addition of manure and commercial fertilizers along with crop rotation, they continued farming into the 1930s.