Pierce Stocking Scenic Drive will not open until Memorial Day Weekend

Changes to visitor service due to Sequestration. Due to mandatory, across-the-board budget cuts, some visitor services in this park have changed. Pierce Stocking Scenic Drive will not open until Memorial Day Weekend and will close after Labor Day. More »
Some restrooms and trash cans not available until Memorial Day

Changes to visitor service due to Sequestration. Other than those at the visitor center and campgrounds, restrooms and trash cans will not be available until Memorial Day Weekend and will close after Labor Day. This includes the Manitou Islands. More »
Tweddle Schoolhouse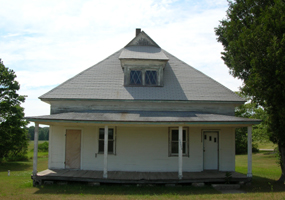 Kerry Kelly 2007
The Tweddle Schoolhouse is located right on M-22 about 2 miles south of Empire on the west side of the road. It was built in about 1895 and served the little farming community until the schools were consolidated and the building was converted to a residence. The bell tower was removed, but the exterior of the building displays much of its original character as a school. Note the two entrances: one for boys and one for girls. A row of lilac bushes borders the school yard.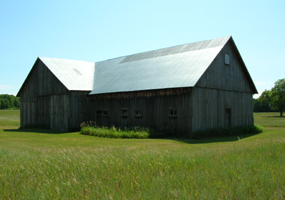 Kerry Kelly 2007
The barn next door to the school is the Pelky barn. It was built about 1875, and is the only building of the farmstead remaining. The L-plan, timber-frame, and vertical board siding is typical of barns of northern Michigan.
Did You Know?

Where can you find 35 miles of pristine Lake Michigan Beaches?  Sleeping Bear Dunes National Lakeshore also includes North Manitou Island (20 miles of shoreline) and South Manitou Island (14 miles of shoreline). More...