Tubing on the Platte River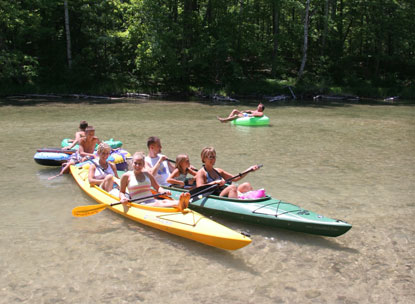 Terry Phipps 2005
Cool off with a relaxing float on a tube or raft down the Platte River on a hot summer day. This is one of the most popular recreational activities to beat the heat of summer. The river is shallow and clear, and while it moves along at a good pace, there are no rapids to contend with. You will see a multitude of different wildflowers and birds on your trip, so pay careful attention to the shoreline.
You can either bring your own tube, raft, air mattress, etc. or you can rent them at the Riverside. If you need to rent during the height of the summer season, you will want to plan ahead and get reservations.
Float a one hour loop from the Platte River Picnic area or Riverside livery to just above Loon Lake and then carry your tube for a 10 minute walk back to your car.
If you have more time, you can take a 2 hour float. In this case, you will put in at the Fish Weir just below Loon Lake and float to the mouth of the Platte where it flows into Lake Michigan. In this case, you will have to carry your tube about 1/4 mile from the road to the river along a gravel road to the Fish Weir and shuttle your car to the parking lot at Platte Point at the end of Lake Michigan Road where you will end your trip.
Did You Know?

The U.S. Life-Saving Station in Glen Haven was moved from Sleeping Bear Point in 1931 because it was being covered with sand from the moving dunes. Visit the Maritime Museum in Glen Haven in Sleeping Bear Dunes National Lakeshore to see how the crew lived and worked. More...