Sleeping Bear Point Trail
| | |
| --- | --- |
| Distance | Loop of 2.8 miles with a spur to Lake MI about 0.5 miles from the trailhead |
| Terrain | Rolling dunes |
| Vegetation | Dune grasses, shrubs, and wildflowers |
| Comments | This is a shorter and less strenuous trail through the dunes than the Dune Trail that starts at the Dune Climb. This also has a spur providing access to Lake Michigan. |
Download a map in pdf format.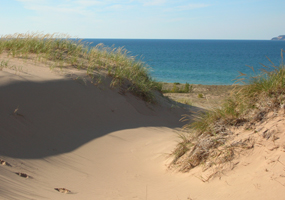 Kerry Kelly 2006
The Sleeping Bear Point Trail is a 2.8 mile loop through the sand dunes with great views of Lake Michigan and South Manitou Island. There is a 0.5 mile spur hike from the trailhead to the Lake Michigan beach. It is less strenuous than the hike from the Dune Climb to Lake Michigan.


Did You Know?

The Pitcher's thistle is an endangered plant species that is native to the dunes around the Great Lakes. You will find many of them as you hike through the dunes or along the Lake Michigan shores at Sleeping Bear Dunes National Lakeshore. More...