Shauger Hill Trail
| | |
| --- | --- |
| Distance | Loop of 2.4 miles in length |
| Terrain | Hilly |
| Vegetation | Beech-maple forest, a few small clearings, and pine plantation |
| Comments | The trail crosses Shauger Hill Road twice and the Pierce Stocking Scenic Drive twice. Be careful crossing roads. This trail is part of the Scenic Drive Ski Trail. This is a Designated X-Country Ski Trail and pets are not allowed on this section of the trail between December 1 and March 31. The section of the Scenic Drive Ski Trail that is on the roadway of the Scenic Drive does allow pets on a leash. |
Click to download a map in pdf format.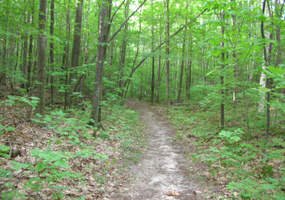 Kerry Kelly 2006
Shauger Hill trail goes through primarily maple-beech forest and some pine forest in pretty hilly terrain.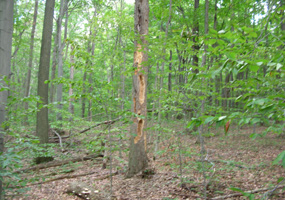 Kerry Kelly 2006
An old tree along the trail provides food for the woodpeckers. Notice the recent activity on this tree.


Did You Know?

During the winter of 1870-71, 214 people lost their lives in shipwrecks on the Great Lakes, and congress established the US Life-Saving Service to conduct rescues from shore. This became the US Coast Guard in 1915. Visit Sleeping Bear Dunes to see how these men lived and worked. More...