Pyramid Point Trail
<
| | |
| --- | --- |
| Distance | Loop 2.7 miles long. With a spur to a lookout point high over Lake Michigan. Lookout point is about 0.6 miles from the trailhead |
| Terrain | Hilly |
| Vegetation | Beech-maple forest, fields and pine plantation |
| Comments | Trail leads to a lookout at the top of Pyramid Point. To protect the bluff from erosion and for your safety, do not descend the bluff. Note that the last portion of the trail Basch Road. Watch for traffic. |
Click to download a map in pdf format.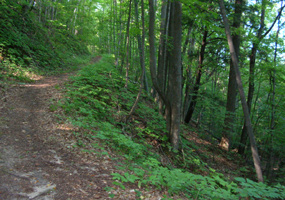 Kerry Kelly 2006
On this 2.7 mile trail, you will find three extremely different environments: maple-beech forest, high bluffs, and meadow. Please do not descend the bluff to Lake Michigan for your safety and to protect the natural setting. The trail includes several steep hills. Also the last 0.4 miles of the loop follows Basch Road - Watch out for traffic as you return to the trailhead.


Did You Know?

The lighthouse on South Manitou Island (Sleeping Bear Dunes National Lakeshore) was commissioned in 1872 and served Lake Michigan Shipping for over 100 years. You can take a tour of the lighthouse and climb its 117 step circular stairway to a great view of the Manitou Passage. More...