Ice Caves No Longer Safe

The ice formations in Leelanau Township, north of the park, are no longer safe to visit. High winds have fractured the ice, moving it to the west. Huge cracks have formed in the cave arches, making them very unsafe and open water is now visible.
Old Indian Trail
Distance

There are two loops, each about 2.5 miles long

Terrain

Green Arrow Loop is flat to gently rolling.

Black Arrow Loop has sections of steep hills and sharp curves.

Vegetation

Evergreens and hardwoods

Comments

The trail leads to a view of Lake Michigan
Click to download a map in pdf format.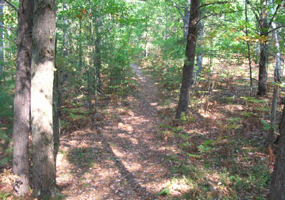 Kerry Kelly 2007
Old Indian Trail has two loops of about 2.5 miles in length. It is also a popular cross country ski and snowshoe trail. Most of the trail runs through maple-beech forest. There is a short hike through the beach dunes to Lake Michigan near the junction of the two loops.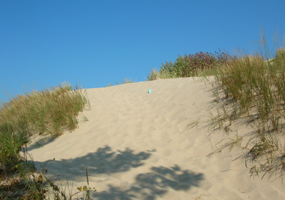 Kerry Kelly 2007
The trail leads through the beach dunes to Lake Michigan. Note that the drifting sand has almost buried the trail post (blue-tipped post).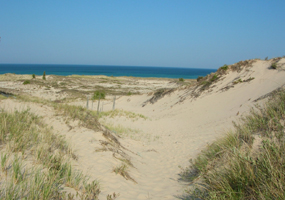 Kerry Kelly 2007
The view from the top of the dune looking out to Lake Michigan near where the two loops connect.


Did You Know?

Each year Sleeping Bear Dunes National Lakeshore and Park Partners sponsor the Port Oneida Fair the first weekend of August to celebrate the history and culture of rural America. Come and see what farm life was like around 1900 and learn about the arts and crafts of the time. More...