Some restrooms and trash cans not available until Memorial Day

Changes to visitor service due to Sequestration. Other than those at the visitor center and campgrounds, restrooms and trash cans will not be available until Memorial Day Weekend and will close after Labor Day. This includes the Manitou Islands. More »
Maritime Museum closed

The Maritime Museum and Boathouse are closed until further notice.
Old Indian Trail
Distance

There are two loops, each about 2.5 miles long

Terrain

Green Arrow Loop is flat to gently rolling.

Black Arrow Loop has sections of steep hills and sharp curves.

Vegetation

Evergreens and hardwoods

Comments

The trail leads to a view of Lake Michigan
Click to download a map in pdf format.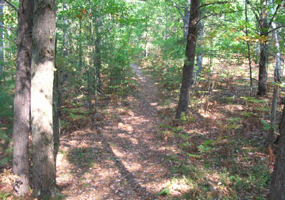 Kerry Kelly 2007
Old Indian Trail has two loops of about 2.5 miles in length. It is also a popular cross country ski and snowshoe trail. Most of the trail runs through maple-beech forest. There is a short hike through the beach dunes to Lake Michigan near the junction of the two loops.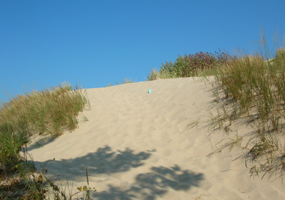 Kerry Kelly 2007
The trail leads through the beach dunes to Lake Michigan. Note that the drifting sand has almost buried the trail post (blue-tipped post).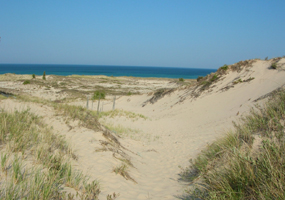 Kerry Kelly 2007
The view from the top of the dune looking out to Lake Michigan near where the two loops connect.


Did You Know?

Float the river! There is more to do at Sleeping Bear Dunes than just climb sand dunes. A hot summer day is ideal for floating the Platte or Crystal River. More...