Ice Caves No Longer Safe

The ice formations in Leelanau Township, north of the park, are no longer safe to visit. High winds have fractured the ice, moving it to the west. Huge cracks have formed in the cave arches, making them very unsafe and open water is now visible.
Good Harbor Bay Trail
| | |
| --- | --- |
| Distance | Loop 2.8 miles long. |
| Terrain | Flat, wet in places |
| Vegetation | Mostly wooded with a short section of low dunes at the start |
| Comments | Picnic area and Lake Michigan beach near the trailhead. |
Click to download a
Good Harbor Trail map
in pdf format.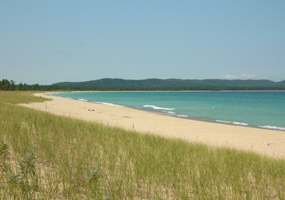 Kerry Kelly 2006
The Good Harbor Bay Trail is almost entirely flat with just a few small grades. Near the beginning of the trail, there is a short section of low coastal dunes, where there is access to the beach. Then the trail turns away from Lake Michigan and becomes wooded for the remainder of its length. A portion of the trail passes through a swamp, and a small bridge assists in crossing a couple of wet spots.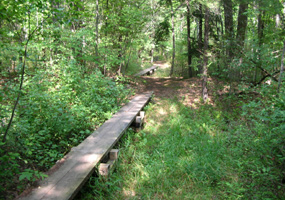 Kerry Kelly 2006
The trail lies between Little Traverse Lake and Lake Michigan. This entire strip of land was underwater at the end of the Ice Age and has emerged gradually during post-glacial times. Along this trail, you can see the different plant communities that have developed in zones parallel to the shoreline. Starting from the beach and traveling inland, you pass through an active dune zone, a shrub zone, a pine-oak forest, and the beginnings of a beech-maple forest. Just a few thousand years ago, the forested zones were barren beaches. Plants, through their growth and decay, have built up a topsoil on top of old dunes.


Did You Know?

The U.S. Life-Saving Station in Glen Haven was moved from Sleeping Bear Point in 1931 because it was being covered with sand from the moving dunes. Visit the Maritime Museum in Glen Haven in Sleeping Bear Dunes National Lakeshore to see how the crew lived and worked. More...