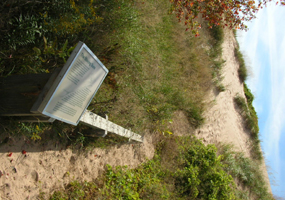 Kerry Kelly 2006
One of the first interpretive stops along the trail demonstrates how the dunes are moving. In 1985, this wooden beam was placed at the edge of the sand dune. It is marked every foot from the end. When this photo was taken in 2006, the dune was at about 55 feet from the end, so the dune is moving an average of about 2.6 feet per year.
The dunes here rise to a height of 150 feet at an angle of about 25 degrees. Sand dunes are formed by the wind. Grains of sand are just the right size to roll or bounce along the ground pushed by a brisk wind. When the wind dies down, the sand comes to rest eventually forming a dune. Since the prevailing winds are from the southwest, the dunes are moving to the northeast. Active dunes exist only about 1 mile from the Lake Michigan shore. Further inland, the winds lose energy allowing plants to become established in the sand.
These dunes are not desert dunes. Dig under the surface and you'll find moisture, which sustains a variety of specialized plants which help stabilize the dune.