No water at Weather Station Campground until further notice.

The well at the Weather Station Campground is down for repair. Water is not available at the campground at this time.
Duneside Accessible Trail
| | |
| --- | --- |
| Distance | Round trip is 0.9 miles |
| Terrain | Flat |
| Vegetation | Field and beech-maple forest, white cedar stands |
| Comments | The trail follows the edge of the dune near the Dune Climb. This trail is designed for use by all park visitors including those using wheelchairs and the visually impaired. There are signs along the trail to interpret nature. Mosquitoes can be a problem along the wooded half of the trail on warm days. |
Click to download a map in pdf format.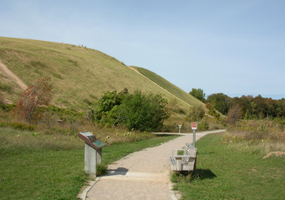 Kerry Kelly 2006
The Duneside Interpretive Trail is located at the base of the dunes near the Dune Climb. The trail begins at the north end of the picnic area and parking lot. The trail is level and made of packed graded crushed limestone, so it is easy to walk or to push a wheelchair on. You will find several interpretive signs and benches along the trail.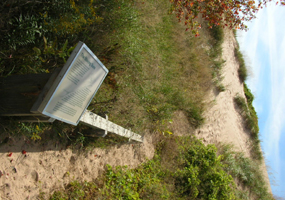 Kerry Kelly 2006
One of the first interpretive stops along the trail demonstrates how the dunes are moving. In 1985, this wooden beam was placed at the edge of the sand dune. It is marked every foot from the end. When this photo was taken in 2006, the dune was at about 55 feet from the end, so the dune is moving an average of about 2.6 feet per year.
The dunes here rise to a height of 150 feet at an angle of about 25 degrees. Sand dunes are formed by the wind. Grains of sand are just the right size to roll or bounce along the ground pushed by a brisk wind. When the wind dies down, the sand comes to rest eventually forming a dune. Since the prevailing winds are from the southwest, the dunes are moving to the northeast. Active dunes exist only about 1 mile from the Lake Michigan shore. Further inland, the winds lose energy allowing plants to become established in the sand.
These dunes are not desert dunes. Dig under the surface and you'll find moisture, which sustains a variety of specialized plants which help stabilize the dune.


Did You Know?

The Pitcher's thistle is an endangered plant species that is native to the dunes around the Great Lakes. You will find many of them as you hike through the dunes or along the Lake Michigan shores at Sleeping Bear Dunes National Lakeshore. More...