Plan Your Trip to South Manitou Island
Access to North Manitou Island is by private boat or by passenger ferry service operated by
Manitou Island Transit
(231-256-9061). The ferry service operates from the Fishtown Dock located in Leland, MI. The ferry operators have been servicing the islands for many generations and the company is still run as a family business.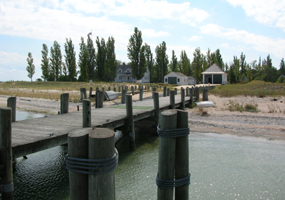 Kerry Kelly 2005
Between June and August, the ferries for each island leave daily from the Fishtown Dock in Leland at 10:00 AM. Reservations are recommended. Plan to arrive at the Fishtown Dock 45 minutes prior to departure. Leland is located 27 miles north of Empire on M-22. The following suggestions are offered to help you have a safe and enjoyable visit. The boat trip can be cool even in summer, so plan ahead and bring a jacket.
On your way to the islands you will see the North Manitou Island Lighthouse Crib. If you get close enough, you will see that it is a favorite resting spot for the Double-crested Cormorant.
When planning for your trip, here are a few tips. Bring rain gear. Wear comfortable hiking boots. Mosquitoes and flies are common in summer, so wear clothes to cover arms and legs and bring some insect repellant. Poison ivy is abundant, so learn how to identify it and avoid contact. There is no food service or store on the island. The ranger staff on the island are there to assist you if necessary.
Rangers and ferry crew will tell you when to return to the dock for the return trip. If you will be staying for a few days, check in with the ranger to be sure when the boat will arrive. Weather conditions or other issues may cause the schedule to change. Don't miss the boat!
Emergency medical assistance is available on the island. Visitors to North Manitou Island are required to secure an entrance pass to Sleeping Bear Dunes National Lakeshore.
Park Passes are available at the Fishtown Dock during the summer months from 8:30 am to 10:00 am, or at any fee collection station within the park.