Sleeping Bear Dune Overlook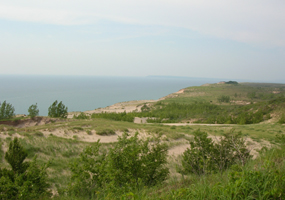 Kerry Kelly 2006
The Sleeping Bear Dune is the large dune, about 1 mile away, along the edge of the bluff. It hardly looks like a bear now, for it has been changing rapidly in recent years. At the turn of the century, it was a round knob completely covered with trees and shrubs. You can still see some of the thick vegetation that gave it a dark shaggy appearance. The Chippewa Indians used the Bear as a landmark and told a story to explain its origin:
"Long ago, along the Wisconsin shoreline, a mother bear and her two cubs were driven into Lake Michigan by a raging forest fire. The bears swam for many hours, but eventually the cubs tried and lagged behind. Mother bear reached the shore and climbed to the top of a high bluff to watch and wait for her cubs. Too tired to continue, the cubs drowned within sight of the shore. The Great Spirit Manitou created two islands to mark the spot where the cubs disappeared and then created a solitary dune to represent the faithful mother bear".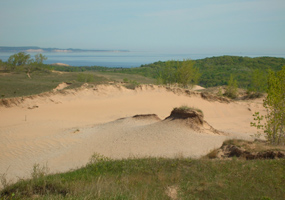 Kerry Kelly 2005
The Sleeping Bear Dune is estimated to be about two thousand years old and has a fascinating history. It is classified as a perched dune because it is perched on top of a plateau, high above the lake. When the dune was forming, it was not at the edge of the bluff, but somewhat inland.Wind carried sand from the upper portion of the Lake Michigan bluff inland and deposited it to form the Sleeping Bear Dune.
Notice the skeletons of dead trees within the eroded bowl of the dune. This called a ghost forest and tells a story of alternating stability and change. After an initial phase of active sand accumulation, a period of stability followed when trees began to grow on the dune. Later, more sand moved in and buried the trees. Two layers of buried soil within the dune indicate that there was a second period of stability and tree growth, followed by another period of sand build-up and then the final growth of the trees and shrubs that now cover the sheltered portions of the dunes.
For a long time, the sleeping Bear Dune stood at about 234 feet high with a dense plant cover. However, trough most of the twentieth century, erosion has prevailed.
By 1961, the dune was only 132 feet high, and by 1980, it was down to 103 feet. The process is a continuing one. The major cause of the dune's erosion was wave action wearing away the base of the plateau on which the dune rests. As the west side of the dune loses its support, it cascades down the hill. The wind, too, is a major agent of erosion, removing sand and destroying the dune's plant cover. What does the future hold? It seems that the present trend will continue and it is only a matter of time until the Bear disappears completely.