Ice Caves No Longer Safe

The ice formations in Leelanau Township, north of the park, are no longer safe to visit. High winds have fractured the ice, moving it to the west. Huge cracks have formed in the cave arches, making them very unsafe and open water is now visible.
Leaving the Sand Dunes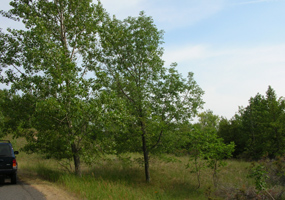 Kerry Kelly 2006
You are about to leave the dunes and enter the neighboring beech-maple forest. The dunes cover just a small area because they depend on strong winds off Lake Michigan to exist. The active dune zone extends for only about a mile from the lake. Further inland, the wind loses its energy and can no longer build dunes.
Did You Know?

North Manitou Island, part of Sleeping Bear Dunes National Lakeshore, is located in the pristine waters of Lake Michigan about 8 miles off the Northwest part of Michigan's Lower Peninsula. It's 15,000 acres, managed as wilderness is Backpacking Heaven! More...