Delayed opening of D. H. Day Campground

Winter conditions have delayed the opening of the D.H. Day Campground. We will post updates as they become available. For more information please contact the visitor center @ 231-326-4700 ext. 5010.
Leaving the Sand Dunes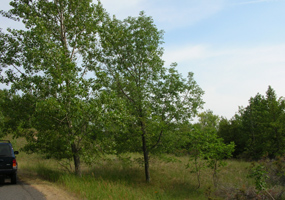 Kerry Kelly 2006
You are about to leave the dunes and enter the neighboring beech-maple forest. The dunes cover just a small area because they depend on strong winds off Lake Michigan to exist. The active dune zone extends for only about a mile from the lake. Further inland, the wind loses its energy and can no longer build dunes.
Did You Know?

Where can you go to climb sand dunes over 200 feet high? The Dune Climb at Sleeping Bear Dunes National Lakeshore also gives you a great view of Glen Lake. The hike to Lake Michigan is over 1.5 miles through the dunes from here. Take some water and wear good shoes! More...