No water at Weather Station Campground until further notice.

The well at the Weather Station Campground is down for repair. Water is not available at the campground at this time.
Changes in compendium

The Superintendent's Compendium for Sleeping Bear Dunes National Lakeshore was updated on August 19, 2014. Changes were related to designated wilderness, mushroom collecting, and the use of unmanned aircraft. More »
Leaving the Sand Dunes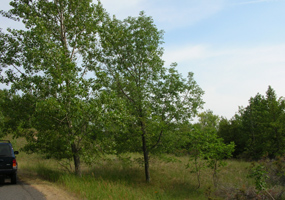 Kerry Kelly 2006
You are about to leave the dunes and enter the neighboring beech-maple forest. The dunes cover just a small area because they depend on strong winds off Lake Michigan to exist. The active dune zone extends for only about a mile from the lake. Further inland, the wind loses its energy and can no longer build dunes.
Did You Know?

The Great Lakes were the highway of the past. It was the main way that cargo and passengers moved through this area until roads were established. A variety of boats used on the Great Lakes are on display at the Cannery in Glen Haven within Sleeping Bear Dunes National Lakeshore. More...