Ice Caves No Longer Safe

The ice formations in Leelanau Township, north of the park, are no longer safe to visit. High winds have fractured the ice, moving it to the west. Huge cracks have formed in the cave arches, making them very unsafe and open water is now visible.
Dune Overlook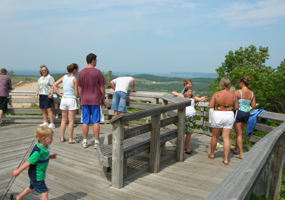 Kerry Kelly 2006
The Sleeping Bear Dunes cover an area of four square miles. While this is a rather small area, it displays considerable diversity. A high, barren plateau to the south grades into a lowland to the north. The plateau itself is a glacial feature, in some places covered with a thin veneer of dunes. A sand dune is simply a pile of sand deposited by the wind. The prevailing southwesterly winds move sand across the Sleeping Bear Plateau toward the northeast.
Here you are at the eastern edge of the sand dunes, standing on top of one of the tallest dunes, about 200 feet high. In some places dune fronts advance more than a few feet per year, while in other places the dunes are stabilized by plants and show no motion. This panoramic view encompasses North and South Manitou Islands, Pyramid Point, Sleeping Bear Bay, the Sleeping Bear Dunes, Glen Lake and the surrounding hills, the Little Glen Lake Mill Pond, and the historic D.H. Day farm with the huge white barn (in private ownership).
Please do not walk out onto the dunes here. The dunes are a fragile environment. Hikers can quickly produce paths that take years to revegetate. At the next stop you will have a chance to take a walk on the Cottonwood Trail.
Did You Know?

Sleeping Bear Dunes includes two large islands in Lake Michigan - North and South Manitou Islands. Take a day trip to South Manitou Island and explore the island village and lighthouse or take a motor tour of the farming district. If you go to North Manitou Island, plan to camp overnight! More...