Ice Caves No Longer Safe

The ice formations in Leelanau Township, north of the park, are no longer safe to visit. High winds have fractured the ice, moving it to the west. Huge cracks have formed in the cave arches, making them very unsafe and open water is now visible.
Werner Farm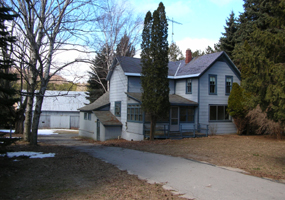 Kerry Kelly 2006
The Werner Farm is located on M-22 near the intersection with Thoreson Road. This farm is also close to the trailhead of the Bay View trail. This 204-acre parcel of land was claimed by Fredrick and Margaretta Werner, who arrived from Germany on 18 September 1855. The Werners, who were related to Elizabeth Burfiend, were the second family to move to the Pyramid Point area. Their farm dates to the late 1850's or early 1860's. In 1885, the Werner's son and daughter-in-law, Richard and Katie (Portner) Werner, were farming at this site. After Richard Werner's death in 1890, Katie married Benjamin Holland, who took over the farm. Ben was known for being very particular. "He had the straightest corn rows in the area!" By 1891, Frederick and Margaretta Werner had divided their parcel, ceding the northern 122 acres to their daughter and son-in-law, Mattie and John Miller.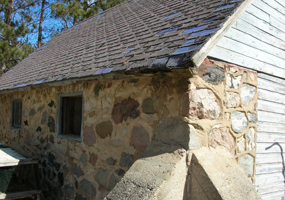 Kerry Kelly 2006
Frederick and Margaretta Werner's great-grandson, Franklin Basch, was raised on the farm and purchased it in 1943. According to Franklin Basch, their farming activities ceased around 1930 because they were unable to produce adequate crops.


Did You Know?

Where can you find 35 miles of pristine Lake Michigan Beaches? Sleeping Bear Dunes National Lakeshore also includes North Manitou Island (20 miles of shoreline) and South Manitou Island (14 miles of shoreline). More...