D. H. Day Campground opens Friday, April 18

D.H. Day Campground opens Friday, April 18, 2014. Register at the self-registration station near the entrance.
Powerless Flight
Launching and landing of powerless sailplanes, balloons, hang gliders, paragliders, radio controlled motor-less model aircraft, and other such powerless flight devices is permitted at the following areas:
Empire Bluff
Pyramid Point
Dune Climb (restricted to November 1 to March 31)
Lake Michigan Overlook on the Pierce Stocking Scenic Drive.
A free powerless flight permit must be obtained at the Philip A. Hart Visitor Center Information Desk. The operator must be in possession of the powerless flight permit and a valid Lakeshore Pass when launching or landing on the Lakeshore lands. Powerless flight permits are valid for the calendar year.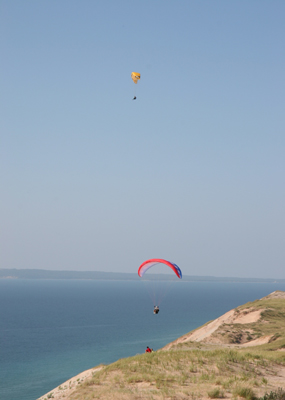 Terry Phipps 2005
Hang Gliding/Paragliding
Pilots must have a current U.S. Hang Gliding Association proficiency rating of H-2 to P-2 or greater. Some designated launch sites require higher ratings than others. Identification is required to obtain a permit. Each permitee must sign an affidavit acknowledging that such flights may present a serious hazard to his/her personal safety, that his/her equipment is in safe operating condition and that he/she is in good physical condition.
Transporting equipment to launch sites will be done by hand carry on established trails.
Standards established by the U.S. Hang Gliding Association apply, as well as all applicable laws and regulations imposed by Federal and other governmental agencies. These include:
Wear a safety helmet.
Have launch assistance.
Consider the Safety of everyone in the area.
Do not fly if five gliders are already in the air.
Report all accidents resulting in injury and/or damage to property to the National Park Service.
Land only in designated landing zones.
Remote Control Gliders
Persons flying model aircraft must agree to the following conditions:
Powerless model aircraft will be flown only at flight-approved locations.
Persons flying aircraft have the required A.M.A. license, are qualified flyers, or have an experienced helper.
Aircraft to be flown are airworthy by having been previously successfully flight-tested.
No more than ten model aircraft may be in the air at the same time.
It is the responsibility of the flyers to reconcile any radio frequency interference difficulties.
Persons will not willfully and deliberately fly models in a careless, reckless and/or dangerous manner.
Accidents resulting in injury and/or property damage will be reported to the National Park Service.
The natural features of the area will be respected, left in place and not disturbed.
Persons flying aircraft will abide by the official A.M.A. Safety Code and National Park Service regulations.
Did You Know?

You can enjoy the warm water of a small inland lake and walk a few steps across the pristine sand dunes to Lake Michigan and experience the refreshing cool waves of the big lake at North Bar Lake in Sleeping Bear Dunes National Lakeshore. More...