No water at Weather Station Campground until further notice.

The well at the Weather Station Campground is down for repair. Water is not available at the campground at this time.
Changes in compendium

The Superintendent's Compendium for Sleeping Bear Dunes National Lakeshore was updated on August 19, 2014. Changes were related to designated wilderness, mushroom collecting, and the use of unmanned aircraft. More »
Schmidt Farm
The Schmidt Farm is located on a hill on the east side of Basch Road. The buildings overlook an open field and orchard.
Forty acres of this property were first settled in 1861 by a German immigrant named George Hessell, who arrived in the United States from Hanover, Germany in the late 1850s or early 1860s. By 1880, he had sold the land to George and Flora Schmidt, who were from Prussia. They built the farm, which was devoted to general agriculture, cultivating a vineyard, and raising cattle. Some traces of their apple orchards remain. The original house burned shortly after construction (1890's). The Schmidts then lived in their barn while the present house was being built. A large barn and granary have either burned or been removed.
After George Schmidt's death, his son, John, ran the farm. He sold the farm to a local realtor around 1958-1959. The Hayms then bought the house for a summer cottage. They later sold to the National Park Service.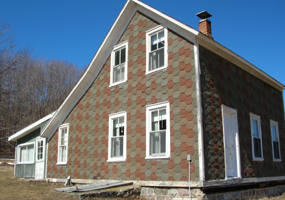 Kerry Kelly 2006
Note the unique use of asphalt shingles used as siding. The resulting patterned appearance is striking. Also, the basement door and stairs are typical of construction in the area. The lean-to entryway on the back of the house is also common.


Did You Know?

Float the river! There is more to do at Sleeping Bear Dunes than just climb sand dunes. A hot summer day is ideal for floating the Platte or Crystal River. More...