Ice Caves No Longer Safe

The ice formations in Leelanau Township, north of the park, are no longer safe to visit. High winds have fractured the ice, moving it to the west. Huge cracks have formed in the cave arches, making them very unsafe and open water is now visible.
Ole Olsen Farm
The Ole Olsen Farm is located at the end of Kelderhouse Road down a long driveway. Take a drive down to the Ole Olsen Farmstead and walk around the buildings and think about what life would be like living and working here.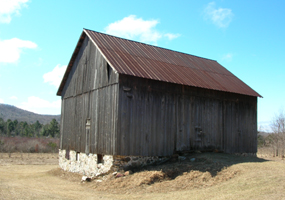 Kerry Kelly 2006
The original owner of 80 acres of this parcel was Andrew Tuffner, who sold it to Thomas Kelderhouse on 19 September 1865. Kelderhouse sold it to Ole Olsen on 24 January 1877. Mr. Olsen then sold the property to Carsten Burfiend in 1879, and bought it back two years later.
The land was settled by Olsen, who emigrated from Kristiansand, Norway, and landed on North Manitou Island, where he met his wife, Magdalena Burfiend. Although the boundaries of this 120 acre farm have remained constant, ownership changed many times: for most of the time, however, it has been owned by the Olsen family. After Ole Olsen built the farm, his son Charles bought it in 1891 and farmed there until 1915 when he married and built a farm on M-22. He later sold this farm to Albert and Ida (Dago) Prause. In 1954, Prause sold the farm to Howard Olsen, a grandson of Ole and a nephew of Charles. Howard Olsen's widow, Bertha, lived in the house until her death.
The main crops were wheat and potatoes.
A short hike of about 1/3 mile east from the buildings will take you behind Narada Lake, where herons, geese, and loons are often seen.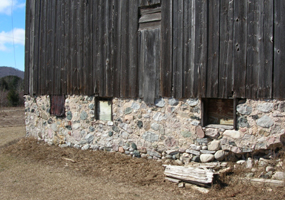 Kerry Kelly 2006
Note the fieldstones used in the foundation of the barn. This is typical of the construction in this area.


Did You Know?

There are 21 inland lakes within Sleeping Bear Dunes National Lakeshore. Explore one of these small lakes for a close-up view of some of the birds, mammals, and wildflowers protected there. By the way, the fishing is usually great! More...