Charles Olsen Farm
This is the newest farm in Port Oneida. The parcel of land was purchased from Fred Dechow in 1915. He had owned the land since 1857. The house and barn were built in 1918 by Paul Popa. The house was the most modern and the first to eventually have indoor plumbing. Water was pumped by hand into a tank in the attic to provide the pressure for the system.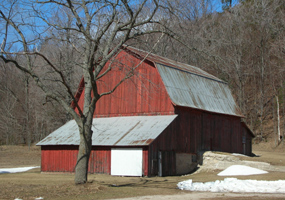 Kerry Kelly 2006
The barn is a good example of the hillside barn. The lower level was for livestock and the upper level for hay storage. The steel and wooden silo indicates an early dairy operation. The house is being adaptively restored by Preserve Historic Sleeping Bear.
This is one of the largest and best barns in Port Oneida. There was a cistern on the hill behind the house to supply water to the farm. By 1929 they had a gas engine-driven pump. Although the Olsens were dairy farmers, like others in Port Oneida, Charles had side occupations to supplement his farm income. He was an expert horseman and used his team to maintain a section of M-22 when it was just a 2-track road. He also used them to plow gardens and haul logs.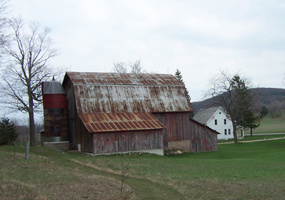 Kerry Kelly 2005
Note the Bay View Trail that winds behind the barn and the silo that has recently been restored. Note that the silo is made of wood staves with the The whole silo is supported by steel rods which band the silo at every few feet up the height of the silo. Typically, these rods are spaced closer at the bottom than at the top due to the higher pressure from the silage near the bottom than at the top. This is a unique construction. Most silos were of cement staves, poured cement, to tile.


Did You Know?

Where can you find 35 miles of pristine Lake Michigan Beaches? Sleeping Bear Dunes National Lakeshore also includes North Manitou Island (20 miles of shoreline) and South Manitou Island (14 miles of shoreline). More...