No water at Weather Station Campground until further notice.

The well at the Weather Station Campground is down for repair. Water is not available at the campground at this time.
Changes in compendium

The Superintendent's Compendium for Sleeping Bear Dunes National Lakeshore was updated on August 19, 2014. Changes were related to designated wilderness, mushroom collecting, and the use of unmanned aircraft. More »
Platte River Campground
The very popular Platte River Campground typically fills up every night from late June to Labor Day. Appoximatelly 66% of the campsites can be reserved. Beginning in 2014 campsite reservations for individual campsites will be extended from May 15 through October 15 and for group campsites from May 1 through October 15. This change is to better accomodate early and late season campers.
For those campers who wish to be more flexible in their arrival dates and length of stay, the remaining 34% of campsites at Platte River Campground are available on a first-come, first-served basis. Each day, any reservable sites which are not taken are made available on a first-come, first-served basis, with no reservation fee.
Through the National Recreation Reservation Service (NRRS), reservations for regular campsites (which accommodate up to six people) may be made by phone or internet up to six months in advance of the camping date desired. Regular campsites may be reserved from May 15 through October 15.
Group campsites (which accommodate up to 25 people) may be reserved up to one year in advance of the camping date desired. Group campsites may be reserved from May 1 through October 15.
Campers wishing to reserve a site may call 1-877-444-6777 or make a reservation online.
The Platte River Campground is open year-round and offers a wide variety of camping styles. You can find back-in and pull-through sites for RV's, including electrical hookups; but it also offers beautiful tent sites, walk-in sites for the slightly more adventurous, and group sites (hike-in, tents only) accommodating up to 25 people. There is even a nearby backcountry campground for those who enjoy a great backpacking experience, but don't have the time to head for the Manitou Islands, Pictured Rocks' Lakeshore Trail, or the Appalachians.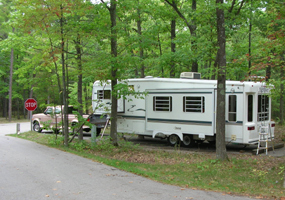 Kerry Kelly 2005
Potable water and a sanitation (dump) station is available at the entrance. Water spigots are also located throughout the campground with several serving each loop. Camp sinks are located at the restrooms for washing dishes, hands, etc. Did we forget to mention that there are hot showers at the Platte River Campground? (One, 6-minute token for $1.00)
The campground is located 10 miles south of Empire on Lake Michigan Road off M-22 at 5685 Lake Michigan Road, Honor, MI 49640.
PLEASE REVIEW ALL CAMPGROUND REGULATIONS UPON ARRIVAL - IT IS YOUR RESPONSIBILITY TO BE AWARE OF AND COMPLY WITH ALL RULES AND REGULATIONS. THANK YOU FOR YOUR COOPERATION.


Did You Know?

There is an operating Blacksmith Shop in Glen Haven. Ask the blacksmith how he makes useful tools and parts by heating, bending, and hammering metal. It is open each day during the summer. More...