Platte Point Beach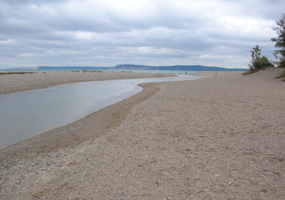 Kerry Kelly 2005
This beautiful area where the Platte River flows into Lake Michigan is a busy place during the hot summer days. It is the terminus of many tubing, canoeing, or kayaking trips. The river is shallow and flows rapidly at this point, which makes it a favorite place for tubing, and on a breezy day, there will be some interesting wave action when you reach the big lake.
Take the short walk along the river to the beach and enjoy the merging of the waters.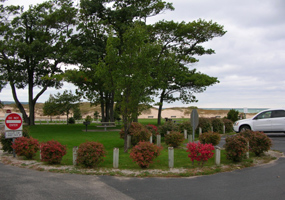 Kerry Kelly 2005
The picnic area at Lake Township Park offers a relaxing way to end your river trip or watch the beach and boating activities. (A township user fee is required.)
There is also a boat launch here, so you can put in your fishing boat and head to Lake Michigan. There are restroom facilities and plenty of parking. There is an Automated Fee Station here as well.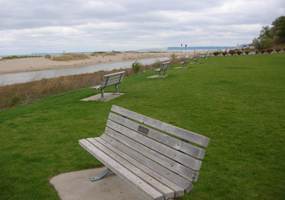 Kerry Kelly 2005
Sit back and relax watching the river flow by with the sand dunes and Lake Michigan in the background. In the summer, this is an active area, and you will enjoy watching canoes, kayaks, and tubes floating by.
Did You Know?

There are 21 inland lakes within Sleeping Bear Dunes National Lakeshore. Explore one of these small lakes for a close-up view of some of the birds, mammals, and wildflowers protected there. By the way, the fishing is usually great! More...