Ice Caves No Longer Safe

The ice formations in Leelanau Township, north of the park, are no longer safe to visit. High winds have fractured the ice, moving it to the west. Huge cracks have formed in the cave arches, making them very unsafe and open water is now visible.
Platte Point Beach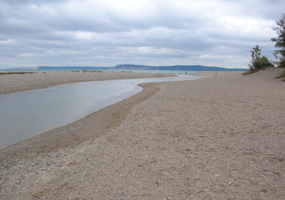 Kerry Kelly 2005
This beautiful area where the Platte River flows into Lake Michigan is a busy place during the hot summer days. It is the terminus of many tubing, canoeing, or kayaking trips. The river is shallow and flows rapidly at this point, which makes it a favorite place for tubing, and on a breezy day, there will be some interesting wave action when you reach the big lake.
Take the short walk along the river to the beach and enjoy the merging of the waters.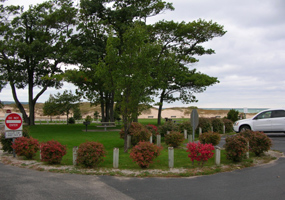 Kerry Kelly 2005
The picnic area at Lake Township Park offers a relaxing way to end your river trip or watch the beach and boating activities. (A township user fee is required.)
There is also a boat launch here, so you can put in your fishing boat and head to Lake Michigan. There are restroom facilities and plenty of parking. There is an Automated Fee Station here as well.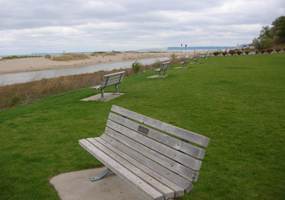 Kerry Kelly 2005
Sit back and relax watching the river flow by with the sand dunes and Lake Michigan in the background. In the summer, this is an active area, and you will enjoy watching canoes, kayaks, and tubes floating by.
Did You Know?

The lighthouse on South Manitou Island (Sleeping Bear Dunes National Lakeshore) was commissioned in 1872 and served Lake Michigan Shipping for over 100 years. You can take a tour of the lighthouse and climb its 117 step circular stairway to a great view of the Manitou Passage. More...