Ice Caves No Longer Safe

The ice formations in Leelanau Township, north of the park, are no longer safe to visit. High winds have fractured the ice, moving it to the west. Huge cracks have formed in the cave arches, making them very unsafe and open water is now visible.
Peterson Road Beach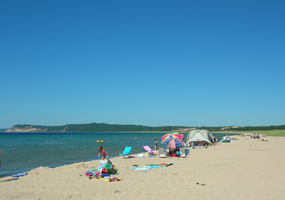 Kerry Kelly 2006
The Lake Michigan beach at the end of Peterson Road is one of the most beautiful and secluded beaches in the Lakeshore. Peterson Road is a gravel road that you can take through the woods for about a mile to a small parking area with a restroom. It is located in the southern part of the Park near the intersection of M-22 and Deadstream Road. From this beach, you can see the bluffs along Sleeping Bear Point and Empire Bluff. On a clear day, you can also see South Manitou Island. This is a popular place for swimmers on a hot summer day, but parking is limited, so you might have to park along the dirt road.
Did You Know?

There is an operating Blacksmith Shop in Glen Haven. Ask the blacksmith how he makes useful tools and parts by heating, bending, and hammering metal. It is open each day during the summer. More...