No water at Weather Station Campground until further notice.

The well at the Weather Station Campground is down for repair. Water is not available at the campground at this time.
Changes in compendium

The Superintendent's Compendium for Sleeping Bear Dunes National Lakeshore was updated on August 19, 2014. Changes were related to designated wilderness, mushroom collecting, and the use of unmanned aircraft. More »
Peterson Road Beach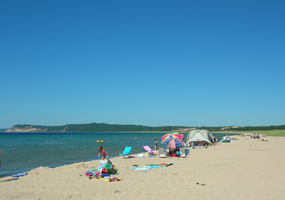 Kerry Kelly 2006
The Lake Michigan beach at the end of Peterson Road is one of the most beautiful and secluded beaches in the Lakeshore. Peterson Road is a gravel road that you can take through the woods for about a mile to a small parking area with a restroom. It is located in the southern part of the Park near the intersection of M-22 and Deadstream Road. From this beach, you can see the bluffs along Sleeping Bear Point and Empire Bluff. On a clear day, you can also see South Manitou Island. This is a popular place for swimmers on a hot summer day, but parking is limited, so you might have to park along the dirt road.
Did You Know?

The sand and gravel bluffs on the Lake Michigan shore in Sleeping Bear Dunes National Lakeshore are 450 feet above the lake level providing outstanding views and sunsets. On a clear day, you can see South Manitou Island. More...