No water at Weather Station Campground until further notice.

The well at the Weather Station Campground is down for repair. Water is not available at the campground at this time.
Peterson Road Beach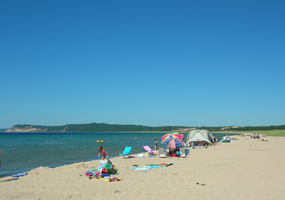 Kerry Kelly 2006
The Lake Michigan beach at the end of Peterson Road is one of the most beautiful and secluded beaches in the Lakeshore. Peterson Road is a gravel road that you can take through the woods for about a mile to a small parking area with a restroom. It is located in the southern part of the Park near the intersection of M-22 and Deadstream Road. From this beach, you can see the bluffs along Sleeping Bear Point and Empire Bluff. On a clear day, you can also see South Manitou Island. This is a popular place for swimmers on a hot summer day, but parking is limited, so you might have to park along the dirt road.
Did You Know?

The Port Oneida Rural Historical District is a 3000 acre farming area preserved as it was in the early 1900's. This area was farmed for over 100 years and is now part of the Sleeping Bear Dunes National Lakeshore More...