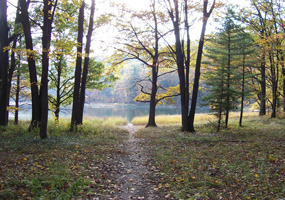 Kerry Kelly 2005
Bass Lake is one of two Bass Lakes in the park. It is an easily accessible, sandy bottom lake visible on the east side of M-22 about 6 miles north of Glen Arbor. There are several access points plus a short 2-track off the main road where you can park along the sandy shore and swim, fish, or kayak. No motorized boats are allowed.
There are still two small cabins at one end of the lake, but most of the lake is wild. The surrounding land is open, the shore is firm, and the bottom is sandy, and there aren't too many mosquitoes. All these features make Bass Lake one of the prettiest places for a lazy day picnic. There are no restrooms here, but some are available at nearby School Lake.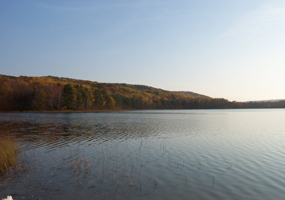 Kerry Kelly 2005
School Lake
is the biggest in the park and has a nice wild feel to it with almost no houses in sight. It has a good boat ramp, though no motorized boats are allowed on the lake, and good restroom facilities. There isn't much of a beach, but the bottom is sandy enough for wading and swimming. Access is from Bohemian Road, a short distance south of M-22. School Lake and Bass Lake are connected by a shallow channel, which makes it possible for canoes and kayaks to get from one lake to the other.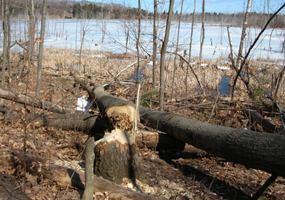 Kerry Kelly 2006
Narada Lake is a picturesque lake full of trees and stumps visible from M-22 about 5 miles north of Glen Arbor. There is a narrow trail through a tunnel of trees to a little canoe launch area. The lake is closed to visitors during loon nesting.
There are many fallen trees on the west shore of the lake where there used to be an access road near the North Unity School. You can walk there and see the huge pointed stumps and conical log ends that are left by the beaver. If you've never seen the power of a beaver, this is worth the stop. You can even see tree trunks with rows of big tooth marks left by beaver where they gnawed the bark off the trees the way we eat corn on the cob. Because Narada Lake is so full of stumps and appears to have no open shoreline, it is mainly of interest to nature lovers, fishermen, and artists.
Shell Lake is a nice nature lake near the northern end of the park. There are two different 2-tracks off of Elliott Road. The first one is pretty rough but finally reaches a little sandy beach area where you can swim or launch a kayak. The other, better track traverses an open field to a small, somewhat murky boat launch area adequate for canoes or kayaks. Shell is especially good for fishing. There is also a beaver lodge at one end of the lake, which you can see from a boat. There are no restrooms and no motorized boats are allowed.
Hidden Lake is just like its name sounds. It takes some effort to get to, and it is very small and shallow. Park where Good Harbor Drive is closed off and walk about a mile west along the trail. When you get close, turn left on another old road and the lake will appear immediately to your right. You can see it from the trail, and if motivated, you can find your way through the tangle of trees and underbrush to get down to the squishy shore. The lake is too small to boat or fish and to shallow to swim.
The content of this page is based on an article by Jane Greiner published in the Glen Arbor Sun on June 29, 2006.