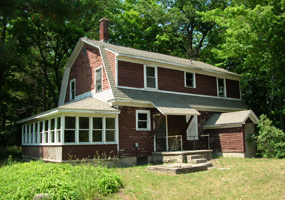 Kerry Kelly 2007
The house was built larger than a typical family farmhouse to accommodate the boarders and diners. Chicken dinners using their own farm-raised chickens were a Sunday specialty at the inn. During the peak tourist season, Donna and her staff prepared Sunday dinners for over 100 guests on her wood stove. Dairy products like milk, whipped cream, and ice cream came from the family cows.
Boarders often returned year after year until they purchased their own summer cottages, and many became good friends. The house, which was painted pale yellow, was surrounded by gardens, flower beds, and trees. A sunroom was filled with books and seashells. Bertie lived in this house until his death in 1963. Donna died the following year.
As you peek in the windows or sit on the steps to the back porch, you can almost hear the chatter and laughter of the guests as they enjoy a good chicken dinner in this serene country setting.