Pierce Stocking Scenic Drive will not open until Memorial Day Weekend

Changes to visitor service due to Sequestration. Due to mandatory, across-the-board budget cuts, some visitor services in this park have changed. Pierce Stocking Scenic Drive will not open until Memorial Day Weekend and will close after Labor Day. More »
Some restrooms and trash cans not available until Memorial Day

Changes to visitor service due to Sequestration. Other than those at the visitor center and campgrounds, restrooms and trash cans will not be available until Memorial Day Weekend and will close after Labor Day. This includes the Manitou Islands. More »
Kayaking and Canoeing
You will find a lot of water in and around the Sleeping Bear Dunes National Lakeshore. That means there are many opportunities to paddle a canoe or kayak. Bring your own boat, raft, or tube or you can rent one in the area.
River Paddling
Two rivers provide easy river paddling and floating. The Platte River is located in the southern part of the park, and canoes, kayaks, and tubes can be rented where the river crosses M-22. In the northern part of the park, near Glen Arbor, the Crystal River flows from Glen Lake to Lake Michigan and canoes and kayaks can be rented in Glen Arbor. Low water levels in the Crystal River can make canoeing difficult at times.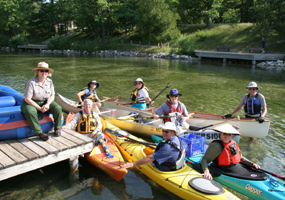 Terry Phipps 2005
A ranger meets with a group ready to canoe and kayak down the Platte River on a sunny July day. You will enjoy the peaceful natural setting of the river. Look for wildflowers along the bank or a Great Blue Heron feeding in the river ahead.
Inland Lakes
Inland lakes offer some of the best wildlife viewing along the lakeshore. Loon Lake is located near the Platte River in the southern part of the park. There is parking lot and lake access just off M-22. School Lake and Bass Lake are small inland lakes in the northern part of the park. The public access for School Lake is from county 669.
Kayaking on Lake Michigan
Lake Michigan is beautiful, but it can be treacherous as well. The cold temperatures, winds and waves can sometimes make canoeing or kayaking dangerous, so take appropriate safety precautions. Be sure your equipment is in good condition and that you don't overestimate your skill level. It is best to go out with at least one other person, who can help you in case of emergency.
There are several good places to put-in at the lakeshore. One of the best is at Glen Haven, where you can park at the Cannery Boat Museum right next to the beach. The paddle around Sleeping Bear Point is beautiful with a blue sky overhead, crystal-clear water, and the sand dunes on shore. Esch Road, just south of Empire also provides a good access point for a kayak. On the northern part of the lakeshore, County Roads 669 and 651 both provide good access to the lake.


Did You Know?

The Great Lakes were the highway of the past.  It was the main way that cargo and passengers moved through this area until roads were established. A variety of boats used on the Great Lakes are on display at the Cannery in Glen Haven within Sleeping Bear Dunes National Lakeshore. More...