Glen Haven Beach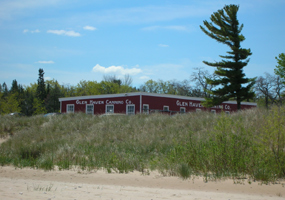 Kerry Kelly 2005
The Cannery Boat Museum in Glen Haven is located right on the Lake Michigan beach. Park your car in the parking lot and walk over the dune to the beach. From this beach, you can get a good view of the Manitou Islands, and you can see the pilings remaining from the old Glen Haven dock. Take a few moments to read the interpretive sign under the shade tree by the parking lot. It shows a picture of the dock as it was in the early 1900's with a passenger ship docking.
There are restroom facilities in Glen Haven near the General Store.
Did You Know?

There are 21 inland lakes within Sleeping Bear Dunes National Lakeshore. Explore one of these small lakes for a close-up view of some of the birds, mammals, and wildflowers protected there. By the way, the fishing is usually great! More...