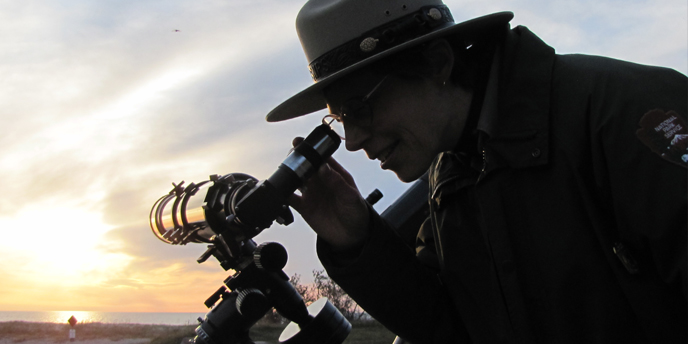 "Sleeping Bear Dunes National Lakeshore is a perfect place to observe the heavens and contemplate the universe." --Bob Moler, Grand Traverse Astronomical Society
---
Weekly Evening Program
Sleeping Bear Dunes National Lakeshore offers a weekly star program led by one of our park rangers. The program, Starry, Starry Night, allows visitors to learn the locations of and hear the legends of the stars that fill the night sky. The program meets before sunset, and prepares attendees for an evening of stargazing on their own.
This summer, our weekly night sky evening program is every Tuesday night at the Platte River Campground Amphitheater at 8:00 pm.
Monthly Star Party Events
With the onset of darkness, the night sky becomes visible along the Lake Michigan shoreline. The night sky opens up an experience that goes beyond day-time activities. This summer the Lakeshore is offering a series of monthly astronomy programs beginning in May and lasting through October; join Park Rangers and the Grand Traverse Astronomical Society (GTAS) for these monthly guided explorations of the night sky.
Events vary each month, and will include stargazing, eclipses, meteor showers, sun-viewing, and storytelling.
Locations
Each month the events will be taking place at a different location within the Lakeshore to take advantage of all prime viewing locations within park boundaries.
April 18, 9:00 p.m
., Platte River Point
May 23, 4:00-6:00 p.m. and 9:00 p.m., Dune Climb
June 20, 4:00-6:00 p.m. and 9:00 p.m.
, Pierce Stocking Scenic Drive, Stop #3
July 25, 4:00-6:00 p.m. & 9:00 p.m.
, Platte River Point
August 8,4:00-6:00 p.m. & 9:00 p.m.
, Port Oneida Fair, Thoreson Farm in Port Oneid
August 12 (Wednesday) 10:00 p.m. - 5:00 a.m.
, All night Perseid meteor shower, Dune Climb parking lot
September 12, 9 p.m.
, Dune Climb parking lot
September 27, (Sunday) 9 p.m. - 12:30 a.m
, Dune Climb parking lot
October 21 (Wednesday), 8:00 p.m.
, Pierce Stocking Scenic Drive Stop #3
---
Cancellation
The monthly star party events will be cancelled if the sky is not visible due to weather conditions. An official decision will be made by the Lakeshore, usually, one hour before the event. To find out whether an event has been cancelled please check our Facebook page, or Twitter feed, or call park rangers at 231-326-4700, ext. 5005, for a voicemail message with the decision.
Cost
Monthly programs are free of cost, participants need only to purchase the Park Entrance Pass or have an annual pass displayed in their vehicle.
What to Bring
If planning to attend the event be sure to bring a flashlight for the walk back to your car, bug spray, and if needed, a blanket as the temperatures tend to be cooler in the evening.