No water at Weather Station Campground until further notice.

The well at the Weather Station Campground is down for repair. Water is not available at the campground at this time.
Changes in compendium

The Superintendent's Compendium for Sleeping Bear Dunes National Lakeshore was updated on August 19, 2014. Changes were related to designated wilderness, mushroom collecting, and the use of unmanned aircraft. More »
Esch Road Beach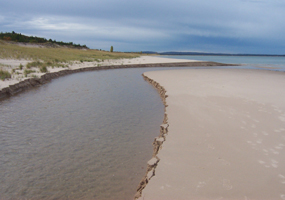 Kerry Kelly 2005
This beautiful beach is located at the mouth of Otter Creek. It is fun to wade in the warm water of the creek. Walk up the creek to see a variety of wildflowers that line the banks. The creek outlet to the lake can move north or south depending on the wave action on the lake. It can look different each time you visit.
Esch Road is located about 3 mile south of Empire on M-22. Turn to the west and follow the road about 1 mile to Lake Michigan. You can park along the road and there are bathroom facilities.
This is the site of the former little logging village of Aral. Take time to read the interpretive sign that describes the logging activities that made this an active logging town and port.
Did You Know?

Where can you find 35 miles of pristine Lake Michigan Beaches? Sleeping Bear Dunes National Lakeshore also includes North Manitou Island (20 miles of shoreline) and South Manitou Island (14 miles of shoreline). More...