No water at Weather Station Campground until further notice.

The well at the Weather Station Campground is down for repair. Water is not available at the campground at this time.
Changes in compendium

The Superintendent's Compendium for Sleeping Bear Dunes National Lakeshore was updated on August 19, 2014. Changes were related to designated wilderness, mushroom collecting, and the use of unmanned aircraft. More »
Esch House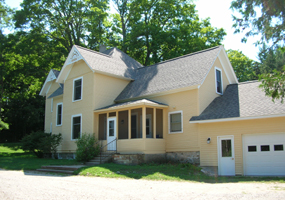 Kerry Kelly 2007
The Esch House is on the north side of Esch Road. The house is just west of M-22 about 3 miles south of Empire. Look for this house as you head for the Esch Road beach.
This Victorian house was built around 1890 as part of a farmstead that provided livestock, dairy, and fruit to the inhabitants of Aral. The barn and other out-buildings have been removed, and the house is now used for housing for Lakeshore staff.
Continue down Esch Road to Lake Michigan, and take the opportunity to walk the beach and see where Otter Creek enters the lake. Near the vault toilet is an interpretive sign that describes the ghost town of Aral.
Did You Know?

The lighthouse on South Manitou Island (Sleeping Bear Dunes National Lakeshore) was commissioned in 1872 and served Lake Michigan Shipping for over 100 years. You can take a tour of the lighthouse and climb its 117 step circular stairway to a great view of the Manitou Passage. More...