Ice Caves No Longer Safe

The ice formations in Leelanau Township, north of the park, are no longer safe to visit. High winds have fractured the ice, moving it to the west. Huge cracks have formed in the cave arches, making them very unsafe and open water is now visible.
Esch House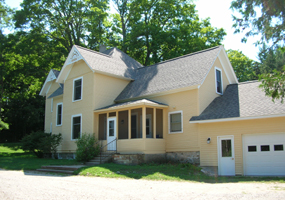 Kerry Kelly 2007
The Esch House is on the north side of Esch Road. The house is just west of M-22 about 3 miles south of Empire. Look for this house as you head for the Esch Road beach.
This Victorian house was built around 1890 as part of a farmstead that provided livestock, dairy, and fruit to the inhabitants of Aral. The barn and other out-buildings have been removed, and the house is now used for housing for Lakeshore staff.
Continue down Esch Road to Lake Michigan, and take the opportunity to walk the beach and see where Otter Creek enters the lake. Near the vault toilet is an interpretive sign that describes the ghost town of Aral.
Did You Know?

If you are an artist, you can apply to the Artist-In-Residence program and stay in the Lakeshore to enjoy some solitude and focused time. Check it out. More...