D. H. Day Campground opens Friday, April 18

D.H. Day Campground opens Friday, April 18, 2014. Register at the self-registration station near the entrance.
DH Day Farm
The D. H. Day farm, comprised of 400 acres, was also known as "Oswegatchi" after the New York community where his father was born and the Oswegatchi River where D. H. Day played as a boy.
Kerry Kelly
Day grew hay and corn to feed his 400 hogs and prize herd of 200 Holsteins. The farm is just south of Glen Haven and has a large white barn and several out-buildings that stand as a landmark of the agricultural heritage of this area. The buildings were built in the 1880s and 1890s.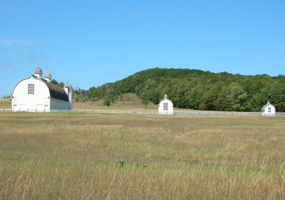 Kerry Kelly 2006
This view of the DH Day barn and out-buildings shows the architectural symmetry that defines this farm. Out-buildings were used as a hog barn, creamery, and bull barn. The farm can be seen from the top of the Dune Climb or from along M-109. This property is privately owned, so please do not trespass.
Did You Know?

The Piping Plover is an endangered species that makes its home on the wide open beaches of Lakes Michigan and Superior. Several nesting pairs have made the shores of Sleeping Bear Dunes National Lakeshore their home. Their nesting areas have been marked so they will not be disturbed.