No water at Weather Station Campground until further notice.

The well at the Weather Station Campground is down for repair. Water is not available at the campground at this time.
Changes in compendium

The Superintendent's Compendium for Sleeping Bear Dunes National Lakeshore was updated on August 19, 2014. Changes were related to designated wilderness, mushroom collecting, and the use of unmanned aircraft. More »
Cell Phone Tours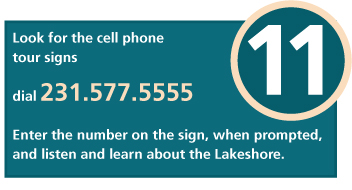 Sleeping Bear Dunes National Lakeshore has many great stories. Hear them come to life and discover more about the rich history and natural beauty of Sleeping Bear Dunes any time from your own cell phone. It's easy!

The service is free, but you will use your own cell phone service and minutes. Coverage may vary depending on carrier.

We currently have three tours available:




Did You Know?

The lighthouse on South Manitou Island (Sleeping Bear Dunes National Lakeshore) was commissioned in 1872 and served Lake Michigan Shipping for over 100 years. You can take a tour of the lighthouse and climb its 117 step circular stairway to a great view of the Manitou Passage. More...