No water at Weather Station Campground until further notice.

The well at the Weather Station Campground is down for repair. Water is not available at the campground at this time.
Boekeloo Cabin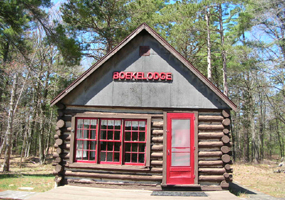 Kerry Kelly 2007
The Boekeloo Lodge is located on Boekeloo Road about 8.5 miles south of Esch Road on M-22. The road is a narrow 2-track that goes west about 1.2 miles from M-22.
When you arrive at the end of the road, the first thing you notice is the quiet beauty of the pond and surrounding forest. The reflection of the cabin on the still water of the pond makes you want to sit right down and enjoy the natural setting.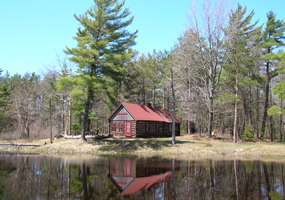 Kerry Kelly 2007
The pond is actually a cranberry bog dug out by Boekeloo in the late 1940s. They dug a canal to the Platte River to fill the bog. There are no cranberries any more, but there is still evidence of the canal. The lodge was built as a homestead cabin by the Cooper family, who hunted, trapped, fished, and tended a garden to survive on the sandy soil of Platte Plains from 1932 to 1935.
When the Boekeloo family acquired the cabin in 1945, it had been abandoned for ten years. They repaired and modernized the cabin and used it as a wilderness vacation spot until the property was acquired by the NPS.
Walk around the lodge and peak in the windows to get a glimpse of vacation life in this little cabin in the woods. If you're up for a hike to Lake Michigan, follow the trail about 1 mile through the woods and beach dunes to a secluded beach. The trail from M-22 to Lake Michigan is ideal for cross country skiing or snowshoeing in the winter.
Did You Know?

There are 21 inland lakes within Sleeping Bear Dunes National Lakeshore. Explore one of these small lakes for a close-up view of some of the birds, mammals, and wildflowers protected there. By the way, the fishing is usually great! More...