No water at Weather Station Campground until further notice.

The well at the Weather Station Campground is down for repair. Water is not available at the campground at this time.
Changes in compendium

The Superintendent's Compendium for Sleeping Bear Dunes National Lakeshore was updated on August 19, 2014. Changes were related to designated wilderness, mushroom collecting, and the use of unmanned aircraft. More »
Scenic Vistas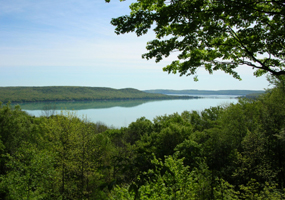 Kerry Kelly 2006
Whether you are standing on one of the prominent features such as Empire Bluffs, Sleeping Bear Plateau, or Pyramid Point or are simply hiking along a forested trail, you will be surprised and amazed at the scenic wonders around you. Looking at the expanse of Lake Michigan from a 400 foot bluff is hard to describe. Viewing the coastline and the series of high perched dunes, each with its own name, through binoculars makes the drive to the Lakeshore worth it. And then to watch a bald eagle circle overhead or a flock of waterfowl pass below just puts icing on the cake. Exploring the beaches, forests, or perched dunes of the Manitou islands always leads an explorer to a display of flowers, a glimpse of a shipwreck from years gone by, or the opportunity to see a squirrel, deer or coyote out making their rounds looking for the next meal. A number of historic farms have been preserved around the Lakeshore which offer a view and a picture of buildings, barns, and landscapes from long gone eras. Ask any visitor to the Lakeshore, whether young or old, and they will immediately tell you of the Dune Climb and the wonder of seeing for the first time sand piled up over 200 feet high. Throw in the blue of the small lakes, the oranges and golds of the hardwood forests in the fall, the browns of the historic barns, and the array of colors in the forest flowers and you too will understand why Sleeping Bear Dunes is a favorite of artists, photographers, and visitors alike.
Did You Know?

North Manitou Island, part of Sleeping Bear Dunes National Lakeshore, is located in the pristine waters of Lake Michigan about 8 miles off the Northwest part of Michigan's Lower Peninsula. It's 15,000 acres, managed as wilderness is Backpacking Heaven! More...