Delayed opening of D. H. Day Campground

Winter conditions have delayed the opening of the D.H. Day Campground. We will post updates as they become available. For more information please contact the visitor center @ 231-326-4700 ext. 5010.
Rivers and Streams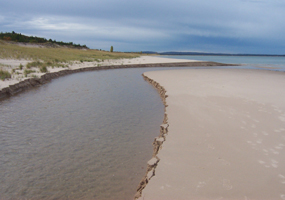 There are 2 small rivers and 2 creeks that flow within the Lakeshore. The Platte and Crystal Rivers are favorite canoe, kayak, and inner tube rivers for families and groups. Shalda and Otter Creeks are small streams that are favorites for fishing and viewing beaver, otter, and muskrats. The waterways come from inland lakes and empty into Lake Michigan. They sport annual runs of salmon and other species such as smelt that migrate in from Lake Michigan. There are a number of wetlands associated with each, and several forest and wetland habitat types can be seen whether hiking or floating along their courses.


Did You Know?

Where can you go to climb sand dunes over 200 feet high? The Dune Climb at Sleeping Bear Dunes National Lakeshore also gives you a great view of Glen Lake. The hike to Lake Michigan is over 1.5 miles through the dunes from here. Take some water and wear good shoes! More...