Ice Caves No Longer Safe

The ice formations in Leelanau Township, north of the park, are no longer safe to visit. High winds have fractured the ice, moving it to the west. Huge cracks have formed in the cave arches, making them very unsafe and open water is now visible.
Rivers and Streams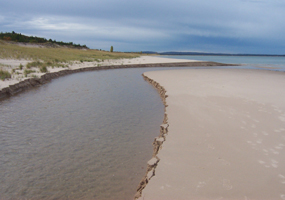 There are 2 small rivers and 2 creeks that flow within the Lakeshore. The Platte and Crystal Rivers are favorite canoe, kayak, and inner tube rivers for families and groups. Shalda and Otter Creeks are small streams that are favorites for fishing and viewing beaver, otter, and muskrats. The waterways come from inland lakes and empty into Lake Michigan. They sport annual runs of salmon and other species such as smelt that migrate in from Lake Michigan. There are a number of wetlands associated with each, and several forest and wetland habitat types can be seen whether hiking or floating along their courses.


Did You Know?

Where can you find 35 miles of pristine Lake Michigan Beaches? Sleeping Bear Dunes National Lakeshore also includes North Manitou Island (20 miles of shoreline) and South Manitou Island (14 miles of shoreline). More...