Some restrooms and trash cans not available until Memorial Day

Changes to visitor service due to Sequestration. Other than those at the visitor center and campgrounds, restrooms and trash cans will not be available until Memorial Day Weekend and will close after Labor Day. This includes the Manitou Islands. More »
Maritime Museum closed

The Maritime Museum and Boathouse are closed until further notice.
Beaches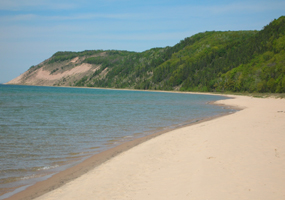 The sandy beaches of the Lakeshore are some of the best swimming and picnicking beaches in the U.S. Some get crowded during the busy summer season, but with 65 miles of shoreline along Lake Michigan, a short hike can almost always bring a visitor to their own quiet little swimming area. Lake Michigan's water can be a bit chilly in June, but is a welcome relief during the hot parts of July and August. The water clarity has greatly increased over the past 10 years, probably due to the incredible filtering capabilities of the zebra mussel which have invaded the Great Lakes. You will find their shells on most beaches now, and care should be taken as these can cause a nasty cut to the bare feet of swimmers. The zebra mussel has benefited the Cladaphora algae, which can now be seen growing out into the deeper water and which often piles up along the shore due to wave action. At times, this algae can be a nuisance right at the beach edge, but is not a problem out in most of the swimming areas. This small distraction is soon overcome by the sound of the waves, the building of sand castles, the great breezes for kite flying, and the warmth of the sand after a swim.


Did You Know?

You will find a wide variety of camping and backpacking options at Sleeping Bear Dunes National Lakeshore - from electrical hook-ups and modern bathrooms to wilderness backpacking. More...