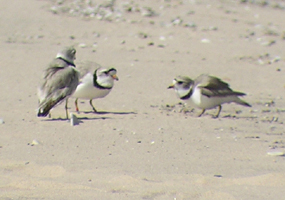 Alice Van Zoeren 2005
Plover Behaviors to Watch
From late April through Early June
Flight displays – Males begin displaying when they first return in order to establish their territories and to attract a female to join them. They fly over their chosen territory with quick, stiff wing beats, peeping constantly.
Territory defense – Both males and females engage in territory defense. They walk shoulder to shoulder along the boundary with the birds from the adjacent territory. Sometimes they lower their heads, puff up their back feathers, and charge at a trespassing bird.
Scraping – Males lay on their chests and scrape out nest sites by kicking backwards with their legs.
Incubation and trading incubation duties – Both parents participate equally in incubating (sitting on the eggs). When it is time to trade duties one bird runs quickly to the nest and the other then runs away.
Feeding – Plovers spend much of their day eating insects, spiders, and other small creatures.