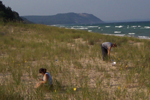 Emery 2006
Effects of Fungal Symbionts on Success of Plant Invasions
Recent studies show that above and below-ground microbes can affect the invasibility of plant communities and the success of invasive species. Specifically, two types of fungi are known to increase the success of invading plants.
Researchers will address the following questions:

1. How do symbiont assemblages differ between natural and restored habitats?
Can symbionts increase the invasion resistance of native dune grass communities?

2. Do symbionts increase invasion success of exotic plant species in sand dune communities?

3. Do symbionts alter plant impacts on ecosystem functioning, such as dune stabilization and arthropod food web structure?
Download complete research proposal (15 kb pdf file).