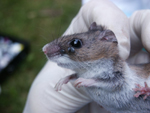 T. Lickfett
Exploring the role of vertebrate hosts in the invasion and emergence of Lyme borreliosis in southwest Michigan
Emergence of infectious disease often results from interactions among wildlife, domestic animals, humans, and microorganisms that cause disease in animals and can be transmitted to humans. I aim to explore the ecological mechanisms of emerging Lyme disease in Michigan. I will investigate the role of vertebrate hosts in the expansion of Ixodes ticks from focal sites of recent invasion in southwest Michigan. In the United States, Lyme disease accounts for over 90% of all reported cases of vector-borne disease, with over 150,000 cases reported to the Centers for Disease Control and Prevention since national surveillance
was initiated in 1982 (CDC 2003).
Download complete proposal (107 kb, pdf file).