Ash trees in Michigan are currently under attack by the Emerald Ash Borer, which could remove this tree from our forests. One infestation is as close as 2.5 miles away in Benzie County. The state has quarantined that area, as well as others, to help prevent the spread of this insect. It is illegal to transport wood from quarantined areas.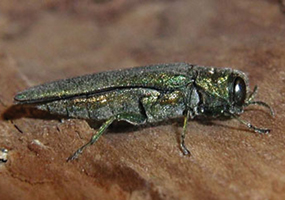 Leave firewood at home
The Park is implementing a new firewood policy. This new plan will prohibit the movement of firewood into the campground areas and the Manitou Islands. It will include a ban on all deciduous and coniferous species and will take full effect in 2012, with a transition period beginning immediately.
Transporting firewood spreads non-native pest insects and diseases like emerald ash borer, hemlock wooly adelgid, beech bark disease, oak wilt and many more. Some of these deadly bullies may have already invaded the park, but we can slow their advances and avoid many more with your help.
DO NOT move firewood.
Buy where you burn and burn where you buy.
If visitors wait to buy firewood inside the campgrounds or use collected allowable dead and down wood within the park, we can save our forests from the fate that the Forest Education Zones predict. You can visit one of our five forest education zones to learn more about these threats and consequences.
If you brought firewood
If you brought firewood into the park, let a park ranger know. The ranger will tell you about voluntary actions you can take during our transition period to help protect our forests.
DO NOT unload firewood
DO place firewood directly from your vehicle into a fire (this prevents the spread of insects along the ground)
DO burn all of your wood completely
DO ask a park ranger about providing special bags to contain your wood for your return home.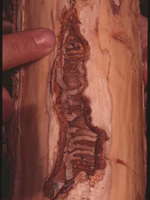 This photo shows typical damage done to the wood of an ash tree by the emerald ash borer.