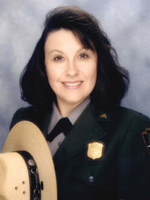 Letter from the Superintendent
Dear Friends and Neighbors of Sleeping Bear Dunes National Lakeshore:
We are very pleased to announce the completion of the General Management Plan / Wilderness Study / Environmental Impact Statement, which began in 2006. Flanked by my senior management staff, I signed the Record of Decision for this plan on January 5, 2009 and Midwest Regional Director Ernie Quintana concurred with his signature on January 6, 2009. Click Here to view the News Release. The signing of the Record of Decision serves as the official document approving the plan and marks the end of the planning process.
I want to express my gratitude to those of you who provided comments and encouragement throughout this three-year process and would like to take this opportunity to express my appreciation for your continued interest in this very special place. Working together, we have developed a plan that maintains a variety of recreational opportunities while continuing to preserve and protect the natural and cultural resources of Sleeping Bear Dunes National Lakeshore. We could not have done this without you.
We will continue to ask for your help as we begin to implement many of the projects and activities described in the plan. We look forward to working with you!
Sincerely,
Dusty Shultz
Superintendent