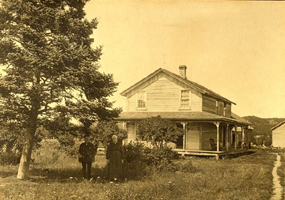 Tom Van Zoeren Barratt Family Book
Frederick and Margaretta Werner, who were also from Hanover, Germany and were close friends and related to Elizabeth Burfiend, joined them in September, 1855. By the 1860 census, the population of the Pyramid Point area was 87 people; most of them were immigrants from Hanover and Prussia.
The arrival of Thomas Kelderhouse was an important event in Port Oneida's development. He was responsible for developing most of the economic opportunities related to logging in the area. Born in 1821 in Albany, NY, he was a successful businessman who owned ships that carried cargo on Lake Michigan. During one of his trips, Kelderhouse landed on South Manitou Island and reportedly admired the mainland, undoubtedly sensing the economic opportunities provided by the dense forests. Striking a deal with Carsten Burfiend, Kelderhouse agreed to build a dock if Burfiend provided the land, and by 1862 the dock was completed. The community of Port Oneida was named after the SS Oneida, one of the first steamships to stop at the dock.
With the completion of the dock, the mainland's extensive hardwood forest began to be harvested. Kelderhouse continued buying land and began to process cordwood for sale to passing ships by building a sawmill near what is now the John Burfiend farm. Over the next 30 years, Port Oneida grew to include a blacksmith shop, a boarding house, general store and post office, two barns, and the Kelderhouse residence. Kelderhouse owned most of these buildings as well as nearly half of the land on Pyramid Point.
Lumbering drastically altered the appearance of the landscape. By the 1890's, most of the land had been logged off and most Great Lakes steamships were burning coal. Unable to compete with larger operations such as that of D.H. Day in Glen Haven, the dock and mill were sold. The loss of this industry and the death of Thomas Kelderhouse in 1884 led to the demise of the Kelderhouse fortune and the village of Port Oneida.
As the logging operations closed down, the Port Oneida region transitioned to an agricultural area. Learn more about the farms and families of Port Oneida by following the link.