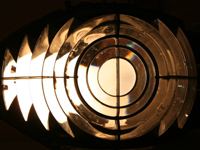 Terry Phipps 2005
Shipping on the Great Lakes increased along with the region's population and commerce, especially after the completion of the Erie Canal in 1825 and the opening of the locks in Sault Ste. Marie in 1855. Keeping pace with the growth in shipping, lighthouses marked the more prominent points and shoals along the shipping lanes.
The centerpiece of any lighthouse is the lens which magnifies and focuses the light for passing ships to see. Early lighthouses used a reflecting system known as the Winslow Lewis platent system. The parabolic reflectors were easily bent, though, and their silver coating was rubbed off with repeated polishing. A superior method of refracting light was developed in 1822 by French physicist Augustin Jean Fresnel. The Fresnel lens uses many panels of polished glass surrounding a light source to refract the light and focus it toward the horizon. U.S. lighthouses did not start using Fresnel lenses until 1852.
The source of the light which was reflected changed over the years too. Early lights were produced by burning wood or coal, but the resulting soot soiled the lenses. Whale oil burned cleaner, but it became expensive. Various vegetable oils were tried, and by the 1860s, lard oil became the standard. Kerosene was widely used by the 1880s. Acetylene lamps, which did not require wicks, gained popularity by the 1920s. This allowed the first step toward lighthouse automation, with the development of a "sun valve" which shut off the flow of fuel during daylight hours. Today's lighthouses use electric lights.
The Coast Guard's Lighthouse Automation Program began in 1968 and was completed in 1990, ending more than 200 years of manned lighthouse operation. The last manned Great Lakes lighthouse at Sherwood Point, WI, was finaly automated in 1983.
Though there was no radio communication with passing ships in the early days, the ships' pilots and lighthouse keepers used signals to exchange greetings. Ships would blow a salute with their whistles; lighthouse keepers would flash back a hello.
Each lighthouse looked and sounded unique. With different colored roofs and towers, they could be distingueshed during the day. At night, pilots would know each lighthouse by the pattern and color of its light signals. Even the foghorns were unique, varying in pitch and duration of the sound.