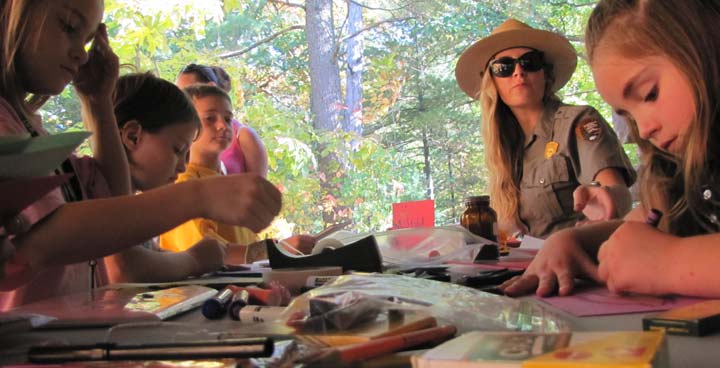 Have you ever dreamed of being a park ranger and working in some of the most beautiful places in the world? You can make your dream come true by becoming a teacher-ranger with the National Park Service. The nationwide Teacher-Ranger-Teacher (TRT) program is a unique professional development opportunity for educators to gain hands-on experience in the summer working side by side with park interpreters, researchers, patrol rangers, resource managers, trail crews, and other specialists.
What is a Teacher-Ranger?
Join the National Park Service! Receive training, gain knowledge and experience, and work at Sleeping Bear Dunes National Lakeshore for eight weeks between June and August. Then, take your experiences back to the classroom to share with your students.
Teachers receive a $3000 stipend, a uniform, training, and housing at the park (if needed and available). Government housing is in or near Empire, MI, and usually shared with one or more seasonal staff members.
The intent of the Teacher-Ranger-Teacher program is to provide well-rounded experiences for teachers serving as park rangers in national parks. From their experience, teachers develop National Park Service materials to be shared with their students in the classroom and/or on the web. The program will focus on teachers from schools that have diverse student populations.
What are the benefits?
To Teacher-Rangers:

Obtain a wide range of new knowledge and skills through working with park staff and partners
Gain access to an extensive array of teaching resources and tools to enhance classroom curriculum in multiple content areas
Receive a certificate of completion and an opportunity for graduate credit
Begin or extend a personal and professional connection with national parks
To Schoolchildren:

Place-based learning
Opportunities and resources to connect to their natural and cultural heritage in new way
Awareness of the possibilities for volunteering and paid employment with the National Park Service
What would I do in the park?
TRTs will have the opportunity to work on various projects and activities including, but not limited to, conducting Junior Ranger and interpretive programs, writing and/or reviewing curriculum-based school activities for all grades, participating in outreach efforts, and working behind the information desk at the visitor center.
How do I apply?
Submit the following with your application:
Names and phone numbers of three (3) references
A letter of support from a colleague, student, or supervisor
Resume with education background, work experience (paid and/or unpaid) and your skills related to this position
If selected as a Teacher-Ranger-Teacher, you will need approval from your school by completing: