Ice Caves No Longer Safe

The ice formations in Leelanau Township, north of the park, are no longer safe to visit. High winds have fractured the ice, moving it to the west. Huge cracks have formed in the cave arches, making them very unsafe and open water is now visible.
Professional Development
Teachers–want to spend a summer living and working in a national park? This is the program for you: work as a park ranger for the summer, then bring the stories and lessons of Sleeping Bear Dunes back to your students.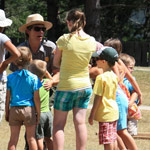 Be a Teacher-Ranger-Teacher
Learn More