Noted Weaver Teri Rofkar to Present Evening Program and T-Shirt Signing
Date:
July 27, 2014
Contact:
Becky Latanich
, 907-747-0132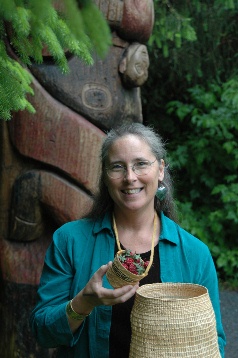 SITKA NATIONAL HISTORICAL PARK – Sitka National Historical Park will host noted weaver Teri Rofkar for an evening program and t-shirt signing on Tuesday, July 29th at 7:00 p.m. at the Sitka National Historical Park Visitor Center Theater. Teri, whose Tlingit name is Chas' Koowu Tla'a, won the 2014 Sitka National Historical Park T-Shirt design contest for her rendering of traditional Tlingit basket designs.

Teri's abstract t-shirt design references an art form less commonly associated with Northwest Coast art. She explains, "While most of us have visions of totems and formline when we think of Tlingit Art, [my style] is the language of geometric. Without a Western style of writing the Tlingit had formline for the literal images, and geometric for pre-contact recording of similar, and more broad concepts. When recording Math and Science I find that our original Binary Code is infinitely flexible to record more complex concepts. While examples of math and natural sciences are not broadly recognized as methodology among the primitive indigenous populations, the depth of sustainable relationships with plants and animals are just now coming to light in the Western world."

Teri will speak more about both the inspiration for her t-shirt design and Tlingit geometric art. Her presentation will be followed by a t-shirt signing. The t-shirts, which were produced in conjunction with the park's cooperating association, Alaska Geographic, are available in sizes S-XXXL and youth size XL.