Sitka's Alaska Day Focus: Sitka National Historical Park
Date:
October 20, 2010
Contact:
Dusty Kidd
, (907) 747-0129
Alaska Day inSitka is a week-long series of events celebrating the transfer of Alaska from Imperial Russia to the United States in Sitka on October 18, 1867. This year's festivities were particularly meaningful to the National Park Service because the focus of the celebration was the centennial of Sitka National Historical Park.

Each year, the Alaska Day Festival Committee selects a theme to mark a particularly important aspect of the Sitka community. The 2010 theme was "Celebrating Sacred Ground," honoring Sitka National Historical Park, which was established as Sitka National Monument in 1910 to protect the hallowed ground of the site of the Battle of 1804 between Baranof's Russian expedition and Kiks.adi clan of the Tlingit. The Sitka NPS team turned out to parade with other community groups through downtown Sitka. As they marched and drove through Sitka with the NPS "fleet" (an Explorer, a pick-up truck and the electric "Bubble Car"), park staff thanked the community for 100 years of support for Alaska's oldest national park, and received thanks and applause in return.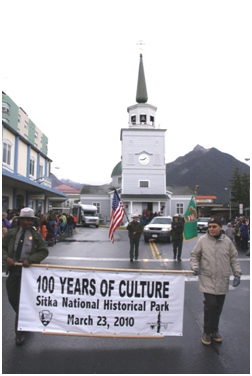 nps photo
The Sitka contingent was led by acting Chief of Interpretation Clarence Wadkins, left, and Volunteer Don Jones, right, carrying a park banner, "100 Years of Culture." Superintendent Randy Y. Larson, greeted well-wishers, including U. S. Sen. Mark Begich, who wished the park staff a happy Alaska Day. Larson piloted one of the three park vehicles along the parade route. The parade included military units such as the Army National Guard and the 9th Army Band, a flyover
by three Jayhawks of the U.S. Coast Guard's Air Station Sitka, four fire trucks, Sitka Mountain Rescue, dance and song groups representing Alaska Native tribes from the local Mt. Edgecumbe High School, the Sitka High School band and Blatchley Middle School Band and Drill Team, and the unique sound of the bagpipes from the Seattle Firefighters Pipe Band. The Boy Scouts – also celebrating 100 years in 2010 – joined the parade with their fellow Scouting organizations.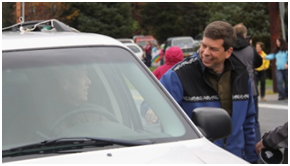 nps photo
Park staff joined in the week's festivities by offering an open house on Saturday, October 16, with a special ranger-led tour of the historic Russian Bishop's House, and ranger-led Totem and Battle Walks at the battle site unit.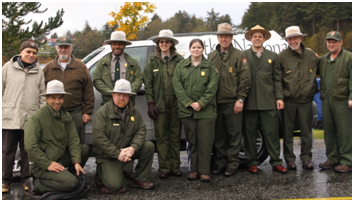 nps photo
Sitka National Historical Park forms up for the start of the Alaska Day parade: (kneeling from left) Tom Gamble, Jon Fish; (standing from left) Don Jones, Bob Geiger, Clarence Wadkins, Tami Jo Weissberg, Chelsea Ulrich, Randy Y. Larson, Ralph Moll, Dusty Kidd and Mike Johnson.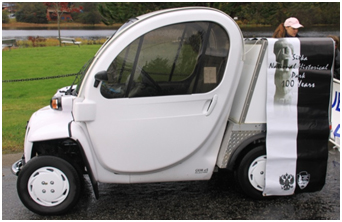 One of Sitka's best-known parade vehicles: Sitka National Historical Park's Gem eS "Bubble Car," an electric vehicle used for short commutes between park units and for small errands.

Key specs:
Curb weight: 1170 pounds
Length: 9 feet
Height: 5 feet 10 inches
Capacity: Two + Cargo
Range: 30 miles
Top speed: 25mph