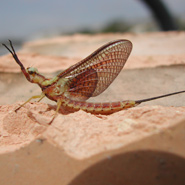 NPS Photo / Blake Trester
MAYFLIES (order Ephemerotera)
Mayflies are short-lived insects that thrive in the Indian River, which runs through Sitka National Historical Park. How short-lived are these species? They will go through a naiad (nymph) stage for about a year in freshwater before becoming a winged adult that lives anywhere from a few minutes to a few days! While most species feed on algae, some are predatory, feeding on smaller prey organisms. For more in-depth information and notes on the common species that inhabit the park's river ecosystem, click here!

Mayflies are categorized in several different ways, most starting with their method of locomotion. The main movement types of mayflies are swimmers, clingers, and sprawlers.
Swimmers
Swimmers are characterized by their tendency to cling to the surfaces of rocks in between bouts of swimming from one rock to another. Families in this category include Small Minnow Mayflies (family
baetidae
), Prong-gilled Mayflies (family
leptophlebiidae)
; and Combmouthed Minnow Mayflies (family
ameletidae
)
Clingers are less keen on traveling and will attach themselves to surfaces with suckers, claws, or silk. One of the local clinger families is the Flatheaded Mayflies (family heptageniidae), which are good indicators of water quality, as the larvae are intolerant of nutrient pollution in the water
Sprawlers live in the surfaces of floating leaves or sediments, and must keep their gills free of silt. Spiny-crawler Mayflies (family ephemerillidae) are one of the families in the sprawler category that lives in Indian River. They are known to use their spiny tails in defense when threatened, by raising them up, or curling them under their abdomen so the tail projects in front of the head.