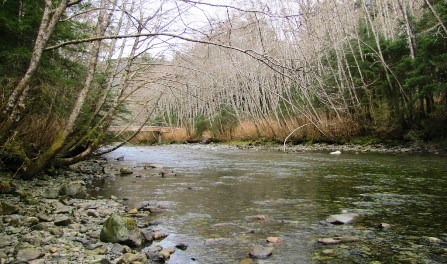 NPS Photo / Andrea Willingham
One of the primary natural resources in the park is the Indian River and the estuary that forms as it enters into the ocean. The river flows through a large U-shaped post-glacial valley watershed that encompasses 12.3 square miles with an elevation range of sea level to 3,800 feet. The river originates in the rugged mountains of central Baranof Island north of the park and enters Sitka Sound between Crescent and Jamestown Bays. A large portion of the upper basin drains alpine regions while the valley floor is relatively wide, flat, and covered by muskeg and Sitka spruce/western hemlock forests.
The Indian River watershed is characterized by steep topography, well-drained shallow soils, and high drainage density. It exhibits a rapid response to rainstorms, which often cause rather large daily fluctuations in stream flow. Hydrologic calculations indicate that peak runoff occurs within six hours of a storm center passing over, with nearly all rainfall running off in 12 to 24 hours. River flow ranges from approximately 20 cfs to 6400 cfs (100-year flood). River discharge generally peaks in September and October and gradually declines throughout winter and early spring. Snowmelt at high elevations results in moderate flow increases in May and June. Minimum flows are most common in December, March, and July.