Russian Possession Plaque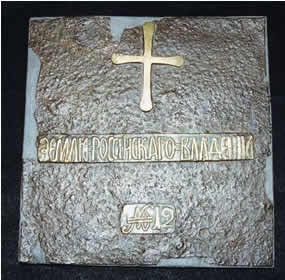 NPS Photo
One of twenty buried by Russian explorers on Alaska's coast, this plaque formally marked Russia's claim to the land. This is the only one found although efforts have been mounted to locate the other plaques. The plaque reads: "Land of Russian Possession".
The possession plaque was buried by Russian explorers at Sitka about 1799 and recovered during archeological excavations in the mid 1930's.
A facsimile of the plaque can be seen at the Russian Bishop's House.