Indian River: Past and Present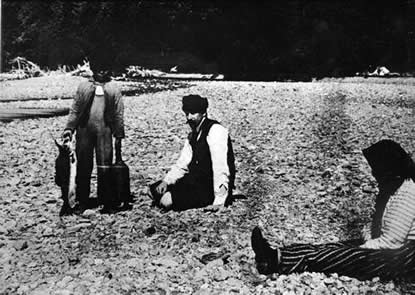 The photograph is from the Alaska State Library Collection: PCA57 #241.
Sitka National Historical Park lies at the mouth of the Indian River in a region rich with natural resources. The Kiks.ádi, a Tlingit Clan, first landed here many centuries ago and claimed the Indian River as their land and resource base. Russian fur traders arrived in the late eighteenth century to trade and exploit the resources and later to occupy the area.
The Russian settlement and Tlingit ranche (as it was termed) began to swell in the 19th century. Indian River became more heavily utilized as a convenient source of fish, wildlife, and plants. In time, this area also became a site for social and recreational activities. The Tlingit concentrated primarily on subsistence hunting, fishing, and gathering in the park, and the Russians increasingly used the park for gardening and recreation. By 1890, increased and disparate use of the park necessitated legislation to protect the landscape.
Today, Sitka National Historical Park is used extensively by the adjacent community. The local public in Sitka use the park for recreational and educational purposes. This includes walking, jogging, viewing wildlife, picnicking, school field trips, and year-round interpretive walks, talks, and demonstrations. Many locals feel a strong sense of ownership toward the park.
The native community considers Sitka National Historical Park important for several additional reasons. The park is a venue for ceremonial and educational activities for Tlingit cultural conservation, is providing curatorial care for the many cultural artifacts returned as a result of the Native American Graves Protection and Repatriation Act, and provides studio space for demonstrating artists.


Sitka Project Jukebox

The story of Sitka National Historical Park is told by members of the local community. Read More